You are searching best Indian railway apps for android. You are in the right place. In this article, I tell you the best app for Indian railway. All apps help you where is my train, running status, inquiry seat availability etc.
Indian railway or Indian train is the most popular transportation source in India. Indian rail is safe and most preferable. Millions of people travel in India by Indian railway every day. Railway cheapest transport medium and laying railway tracks in all over India.
Why people preferred Indian railway for travelling. Indian railway is comfortable, reliable, cheapest and safest And faster than road transport medium like a bus. All medial class or lower class people preferred to travel by Train.
best Indian railway apps for android, iOS and windows mobile
Indian railway provides reservation ticket by two medium. First is offline (manually booking), this method is very old and not comfortable. You want to an offline ticket, you go to the station and standing in line. The second method is online, Indian railway gives you the facility to book a ticket online at home By IRCTC site.
IRCTC is online ticket booking portal by India railway. IRCTC ticket booking easy and simple and available for all platform like a computer, android mobile, iOS etc. Millions of apps available on the internet, play store or iOS store but which are best Indian railway apps for android, iOS and windows phone. All about discuss in this article.
Hundreds of Indian railway apps available on play store, iOS store (Apple store) and windows store. You want to know which app is best for ticket booking, inquiry seat availability, running status and where is my train. Here I will provide the best Indian railway apps for android, iOS and Windows mobile.
Best Indian railway apps for android
Some of the basic feature in all apps.
booking train ticket
Get PNR number your booking ticket
where is my train
inquiry seat availability
running status
fare and seats information.
booking Tatkal ticket
Read this article also: how to watch live cricket match on MX player
best Indian railway app
All best Indian railway apps are freely available on play store, iTunes store and windows stores. let's discuss the best Indian railway app.
1.IRCTC Rail Connect (official app)
IRCTC Rail Connect is an official app by Indian Railway. I have been using this app the last 5 years this is one of the best apps for Ticket booking, PNR checking and Tatkal ticket booking. IRCTC is Indian Railway Catering And Tourism Corporation limited.
IRCTC Official app for mobile gives many features. All these options are very helpful to passengers. Using this app you book your ticket, Tatkal ticket, PNR Enquiry, Cancel You Ticket, File TDR, book meal or many more options. This app is Best indian railway apps for android.
IRCTC provides some extra option like Flights, Tourism, Magazines, iMudra and book Meal. If you want to use IRCTC Flights, Tourism you simply install one new app. IRCTC Magazines not free but this is given free trial for 7 days.
IRCTC Rail Connect Pros:
Booking Ticket online anytime anywhere.
Cancel your booking Ticket
Search trains
Getting train information.
Plan Your Journey
PNR Enquiry
File TDR
Booking Meal
IRCTC Rail Connect Cons:
running status
live at the current station.
IRCTC app downloading links
Download for android
Download for iPhone
IRCTC Official is currently not available for windows phone
2. NTES
NTES is National Train Enquiry System. It is also very helpful to you. NTES most features are train location, your train spot, live train status, train schedule, train between stations, cancel trains and rescheduled train.
You want to know train between stations then this app is best for you. And tells you your train on which stations. It can be used to train between stations and live stations report and many more.
NTES Pros:
Train between stations.
train schedules
live stations information.
cancel train
Reschedules train.
diverted trains
NTES Cons:
ticket booking
PNR check
food booking
NTES APP Downloading links:

NTES Download link for android
NTES Download link for iPhone
NTES download link for windows phone
3. Where is my Train: Indian Railway Train Status
This is unique because This app functioning offline without needing the Internet. this app also shows speedometer and destination alarms.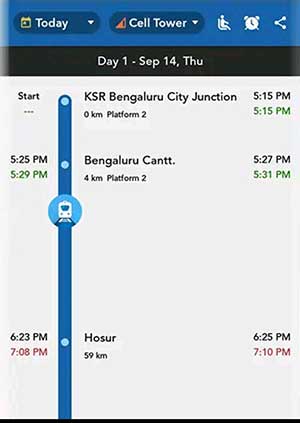 Some basic features like Train location without internet, available in 8 languages, find trains without internet, Coach and seat Arrangement, Location alarm without GPS and Arrivals and Departures.
here is my Train Pros:
station based wakeup alarms.
see timetable and fares
Get sea positions from PNR
upcoming trains in your station
live delay
platform information
offline application
GPS based Live Train tracking
Where is my Trian Cons:
booking ticket
booking meal
Where is my Train Download

Where is my Train Download for Android
Conclusion: I have list best 3 apps for Indian Railway. Hundreds of application available but these 3 apps working almost everything. IRCTC official app booking ticket, PNR checking, booking Tatkal, booking meal etc. NTES app complete remaining features in IRCTC App.
You have any suggestion and you want to add other best Indian Railway app for android then you comment in the comment box or contact us page. Thanks for reading this article. Have a good day.